NEWS RELEASE
For more information contact:
Contact: Sally Vesley (360) 816-1751
svesley@cru-dataport.com




CRU-DataPort Announces Expanded Partnership with Hammer
Vancouver, WA — September 30, 2011 —
Data security pioneer CRU-DataPort announced its collaborative participation in the upcoming SMAU event in Milan, Italy with leading IT product distributor Hammer. CRU-DataPort and Hammer are teaming to bring CRU-DataPort products to the SMB, government, education and healthcare markets in Italy. This collaboration gives Hammer's network of resellers and customers product solutions to enhance data mobility and data storage offerings, including CRU-DataPort's new ToughTech® Duo high performance, hand held RAID storage system and a multitude of mass storage solutions available in rackmount and desktop configurations.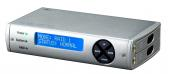 "Hammer is an excellent strategic channel partner in Italy and throughout Europe," said Dan Bovee, CRU-DataPort Vice President of Sales. "CRU and Hammer have had a successful partnership in place in Europe for over five years and we are confident that we will share the same success with our expanding line of data storage and security solutions in the Italian marketplace."
CRU-DataPort will be attending the SMAU conference in Milan, Italy October 19-21, 2011. For more information regarding products and the PartnerAdvantage Program, please visit http://www.cru-dataport.com/partner-program/partner-program.php or contact Brandon Busey at bbusey@cru-dataport.com. To learn more about special offers and promotions contact Luciano Fontana with Hammer Italia Srl at Tel/Fax: +39 0362 504770 | Mobile: +39 340 7674106 or lucianof@hammerplc.com.
About CRU-DataPort
Founded in 1986, CRU-DataPort is a pioneer in data security, encryption and data mobility devices. The company's flagship DataPort®, along with Data Express®, RTX™, RAX®, ToughTech® and WiebeTech™ product brands of removable and external hard drive enclosures are the de facto standard for physical data security and safe data transporting in government, education, audio/video production, digital cinema and business markets. CRU-DataPort products are available through major distributors, PC manufacturers, specialty system builders and resellers globally.
###