NEWS RELEASE
For more information contact:
OnPR for CRU
pr@cru-inc.com


Law Enforcement Personnel Dress for Success with CRU® Ditto® Field Kit L-1
With soft case, CRU WiebeTech® Ditto Forensic FieldStation and forensic tools
Agents are more successful with "knock and talk" searches, imaging digital content

Vancouver, WA — January 27, 2015 —
Looks matter when law enforcement first arrives for a "knock and talk" to inquire about possible criminal activity. The
CRU® Ditto Field Kit L-1
gives law enforcement personnel the look with a highly portable, unobtrusive soft-case kit containing the first of its kind CRU WiebeTech Ditto Forensic FieldStation and all the essential tools for quick analysis of loose media and data storage.
"We heard from our customers that softening the look of the kits will open a lot of doors for the personnel who have been deployed with CRU Ditto Forensic FieldStations in the field," said Randal Barber, President and CEO of CRU. "This CRU Ditto Field Kit will help law enforcement, anti-terrorism agents, corrections officers making visits to parolees, and others be successful in conducting warrantless searches of digital content."
The kit features the
CRU Ditto Forensic FieldStation
. which can be deployed in the field by personnel with no formal forensic training. Note that the Ditto Forensic FieldStation features logical and physical imaging capabilities, while allowing forensics specialists to administer and operate data acquisition and transport remotely, providing quick analysis of digital information, saving time and money.
In December, CRU released a
firmware upgrade
so all existing and future Ditto Forensic FieldStations can support digital investigation and data acquisition from CDs, DVDs, and Blu-ray Discs.
Along with the CRU Ditto FieldStation, the CRU Ditto Field Kit L-1 includes a WiebeTech Media WriteBlocker, DVD reader, power supply and all required cables–everything needed to access SATA drives, PATA drives, eSATA storage devices, USB devices, SD cards, CompactFlash cards, Memory Sticks, CDs, DVDs, and Blu-ray Discs.
"The CRU Ditto Forensic FieldStation with Logical Imaging has transformed how forensic and digital investigations are conducted," said Barber. "This new Ditto Field Kit gives law enforcement a little something extra to get in and quickly get the evidence needed to make an arrest or prevent a crime."
Online Demo of CRU WiebeTech Ditto Forensic FieldStation
A publicly available online demo of the Ditto Forensic FieldStation allows forensics, IT security or cybersecurity experts to try out digital investigation and logical imaging for themselves:
dittodemo.cru-inc.com:8080/
.
Images of CRU Ditto Field Kit L-1
Images available at
http://www.cru-inc.com/products/wiebetech/ditto-field-kit-l1/
For more information, contact
sales@cru-inc.com
or visit
www.cru-inc.com/ditto
or
cru-inc.com/dittovideos
.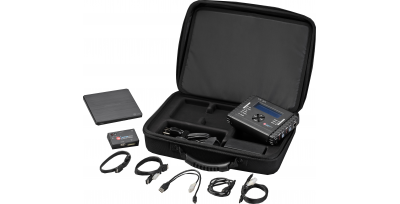 About CRU
Founded in 1986, CRU® is a pioneer in data security, encryption, digital investigation, and data mobility devices. The company's flagship DataPort®, along with the Data Express®, DataHarbor®, CRU RTX®, RAX®, ToughTech® and WiebeTech® product lines of removable and external hard drive enclosures are the de facto standard for physical data security and safe data transport in government, education, audio/video production, digital cinema and business markets. CRU products are available through major distributors, PC manufacturers, specialty system builders and resellers globally. Find CRU at
www.cru-inc.com
,
www.facebook.com/cruinc
, or
www.twitter.com/cru_inc
.
###