NEWS RELEASE
For more information contact:
OnPR for CRU
pr@cru-inc.com


CRU® Introduces CRU WiebeTech® USB 3.0 WriteBlocker™
Doubles speed of evidence acquisition for law enforcement, corporate eDiscovery, and cybersecurity incident response
Vancouver, WA — December 11, 2015 —
Today CRU introduced the
CRU WiebeTech USB 3.0 WriteBlocker
, a device that should be part of any digital forensic and eDiscovery tool kit. The CRU WiebeTech USB 3.0 WriteBlocker is essential for gathering forensically sound evidence, which is as important to law enforcement investigations as it should be to professionals in corporate human resources, IT, and security during eDiscovery or investigating hacks or cyberattacks.
What sets the CRU WiebeTech USB 3.0 WriteBlocker apart from other write blockers is that it has attained the fastest data capture speeds of any write blocker available today with a benchmarked read rate of 400 MB/s. The device's two USB 3.0 inputs, coupled with the high performance, allow the support of full-speed simultaneous dual channel acquisition and triage. The CRU WiebeTech USB 3.0 WriteBlocker is also bus-powered to easily image drives in the field, and it is extremely lightweight and small, fitting into the palm of your hand. The initial release of the product will support Windows® 7, 8 and 10 host computers.
CRU WriteBlockers are an essential tool for preserving the integrity of the source information during a forensic investigation or eDiscovery process to prove that data was secured in a forensic manner should the digital information ever need to be presented in a court of law.
Along with its new write blocker, CRU will also offer the CRU WiebeTech WriteBlocking Validation Utility – free Windows software to test any write blocker from any manufacturer to verify its write blocking capabilities. The utility was modeled after the National Institute of Standards and Technology's publicly available Linux-based testing tool.
"CRU once again sets the standard for size, superior performance and value," said James Wiebe, founder of WiebeTech. "Our entire forensic product line from the CRU WiebeTech Ditto Forensic FieldStation to the CRU WiebeTech USB 3.0 WriteBlocker is transforming and simplifying how investigators and professionals conduct investigations."
CRU is presenting a webinar
on Monday, December 14, 2015 in which James Wiebe will be discussing write blocking technology, as well as the USB 3.0 WriteBlocker.
The CRU WiebeTech USB 3.0 WriteBlocker is another evolutionary product among the CRU WiebeTech forensic product line that includes the Ditto® Forensic FieldStation, the quiet and reliable imager with Logical Imaging and remote forensic capability. Other popular products include the Forensic UltraDock™ and Drive eRazer™ Ultra, which are used by law enforcement and security professionals worldwide.
Availability: The CRU WiebeTech USB 3.0 WriteBlocker is shipping in December 2015 and is available at a suggested retail price of $349 through CRU certified resellers.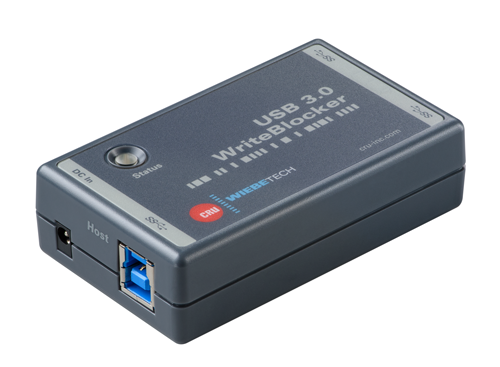 The handheld, bus-powered CRU WiebeTech USB 3.0 WriteBlocker is capable of reading data at 400 MB/s. With this high performance and its two USB 3.0 inputs, the device can support full-speed simultaneous dual channel acquisition and triage.
About CRU
Founded in 1986, CRU® is a pioneer in data security, encryption, digital investigation, and data mobility devices. The company's flagship DataPort®, along with the Data Express®, DataHarbor®, CRU RTX®, RAX®, ToughTech® and WiebeTech® product lines of removable and external hard drive enclosures are the de facto standard for physical data security and safe data transport in government, education, audio/video production, digital cinema and business markets. CRU products are available through major distributors, PC manufacturers, specialty system builders and resellers globally. Find CRU at www.cru-inc.com, www.facebook.com/cruinc, www.twitter.com/cru_inc or www.linkedin.com/company/cru-inc.
###