NEWS RELEASE
For more information contact:
James Wiebe, President
WiebeTech LLC
8200 E. 34th Street North #1404
Wichita, KS 67226
jameswiebe@wiebetech.com
316 744 8722 (main) 316 744 1398 (fax)
1-866-744-8722 (toll free)
www.wiebetech.com



WiebeTech announces bus-powered drive enclosures with capacities to 500GB
Wichita, KS — September 28, 2005 —
WiebeTech announces that the bus-powered UltraGB+™ is now available with capacities of 250GB and 500GB. UltraGB+ is a 3.5" storage enclosure that allows drives to be accessed without AC power through FireWire 800 (400 compatible).
Also announced is new high performance, high capacity versions of the ComboGB™ pocket drive. The FireWire 800/400/USB2 enclosure is now available with 120GB 5400RPM and 100GB 7200RPM drives.
Collectively, these new capacities and storage levels reinforce WiebeTech's leadership role in high performance, high capacity bus powered storage enclosures.
UltraGB+ features FlexMount™ shock mounting for its internal drive and has FireWire 800 (400 compatible) ports, in addition to a non bus powered USB2 port. (An AC adapter is included.)
ComboGB features triple ports: FireWire 800, 400, and USB2. It includes five different cables and adapters.
Pricing and Availability
UltraGB+
UPL-250 // UltraGB+ 250GB // $399.95 // Stock
UPL-500 // UltraGB+ 500GB // $799.95 // Stock
ComboGB
CGB-100-7200 // ComboGB 100GB 7200RPM // $599.95 // Stock
CGB-120-5400 // ComboGB 120GB 5400RPM // $499.95 // Stock
Complete information on WiebeTech products can be viewed at www.wiebetech.com
Government customers may purchase from www.pcmallgov.com and www.lyme.com. Dealers may purchase WiebeTech products from WiebeTech's distributors, www.synnex.com or www.drbott.com. End users may purchase from www.pcmall.com, www.smalldog.com, www.pcconnection.com and www.cdw.com. All configurations are also available directly from www.wiebetech.com.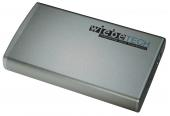 UltraGB+ bus-powered drive is now available with 250GB or 500GB.
About WiebeTech
WiebeTech LLC was founded in July 2000 by James Wiebe and has focused on marketing high performance, highly portable storage solutions for consumer and government markets.
###