NEWS RELEASE
For more information contact:
James Wiebe, President
WiebeTech LLC
8200 E. 34th Street North #1404
Wichita, KS 67226
jameswiebe@wiebetech.com
316 744 8722 (main) 316 744 1398 (fax)
1-866-744-8722 (toll free)
www.wiebetech.com



WiebeTech announces 5 Terabyte Portable RAID.
Also introducing checkable carry-on RAID Field Kit
Wichita, KS — November 2, 2005 —
WiebeTech announces the RT5x2™ which incorporates dual RT5™ RAID systems that yields a staggering total of 5TB capacity in one enclosure (unformatted and unRAIDed). The RT5x2 features dual handles so that it may be transported from location to location.
"The RT5x2 was a logical progression from our existing RT5 RAID product," said James Wiebe, CEO of WiebeTech LLC. "Customers want to maximize the amount of data that can be carried securely in a storage enclosure. RT5x2 delivers on that desire by providing two independent RAID 5 devices in a single enclosure, complete with a handles to allow easy mobility. We believe that RT5x2 will be strongly in demand with data recovery specialists, corporate IT departments and forensic investigators. It also will fill a niche for high end home media servers."
Complete information on the RT5x2 is available online.
Click here.
Pricing and Availability
RT5x2 starts at $3199.95, sans drives. A system with 5 Terabytes (unformatted, unRAIDed), is priced at $9399.95. Other configurations are available as well. Availability is 2 to 5 weeks after receipt of order.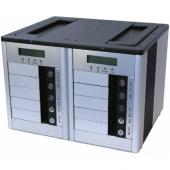 New Pelican Field Kit that checks as carry-on luggage
The new
FFK-10 Field Kit
is specifically designed to allow WiebeTech's portable RT5 high capacity RAID to be checked as carry-on luggage.
The FFK-10 allows professionals to travel with WiebeTech's high capacity RAID and is designed to be carried on commercial flights. The durable Pelican case includes a retractable handle and wheels. WiebeTech adds custom cut foam, exactly designed to fit the RT5 RAID.
Pricing and Availability
The FFK-10 is priced at $279.95. Availability is 2 to 5 weeks after receipt of order. FFK-10 includes Pelican case and custom cut foam. Order RT5 RAID separately.
Complete information on WiebeTech products can be viewed www.wiebetech.com.
Government customers are encouraged to purchase from www.pcmallgov.com and www.lyme.com. Dealers may purchase WiebeTech products from WiebeTech's distributors, www.drbott.com or synnex.com. End users may purchase from www.pcmall.com or www.macmall.com. End users may also order from www.smalldog.com, www.pcconnection.com and CDW/Macwarehouse. All configurations are also available directly from www.wiebetech.com.
About WiebeTech
WiebeTech LLC was founded in July 2000 by James Wiebe and has focused on marketing high performance, highly portable storage solutions for consumer and government markets.
Note: RT5x2 and RT5 are trademarks of WiebeTech LLC. Other marks are trademarks of their respective owners. All specifications and pricing are subject to change without notice.
###