NEWS RELEASE
For more information contact:
James Wiebe, President
WiebeTech LLC
8200 E. 34th Street North #1404
Wichita, KS 67226
jameswiebe@wiebetech.com
316 744 8722 (main) 316 744 1398 (fax)
1-866-744-8722 (toll free)
www.wiebetech.com



WiebeTech announces New mini Docks to attach SATA drives through USB or SATA port
Wichita, KS — January 10, 2006 —
WiebeTech has expanded its popular DriveDock series to include two new
mini Docks
that allow users to attach SATA drives to a computer via either a single USB or SATA cable. The
mini USBDock™
attaches SATA drives via a USB cable, and the
mini SATADock™
attaches SATA drives through a SATA port.
"These new mini Docks are incredibly small and very attractive," said James Wiebe, president and CEO of WiebeTech LLC. "We've introduced a new color and continue our tradition of rugged aluminum design, so they nicely complement the rest of the WiebeTech DriveDock line."
mini Docks can be used with bare external drives. Attach power, attach the drive, connect to a computer with the appropriate cable, and read/write/access the drive's data just as if it were inside the computer.
Features
Connection:
Directly attaches to any SATA drive.
USB2 to host (mini USBDock)
SATA to host (mini SATADock)
Data Speeds:
USB2 port: up to 480 Mbps (mini USBDock)
SATA port: up to 1.5GHz (mini SATADock)
LED Indicators:
mini USBDock: 3 LED indicators: power attached, power on and access.
mini SATADock: 2 LED indicators: power attached, power on.
+12V DC Power In:
Allows powering using the included AC adapter.
Power Switch:
Allows power up / down.
Aluminum Case:
Briefcase tough; excellent heat dissipation.
Both products will ship late March and are priced at $74.95 each. Complete information can be viewed online. Order code: MINI-SATA-DOCK and MINI-USB-DOCK.
Dealers may purchase WiebeTech products from www.drbott.com. End users may purchase from www.pcmall.com or www.macmall.com. End users may also order from www.pcconnection.com and CDW/Macwarehouse. Government customers are encouraged to purchase from www.pcmallgov.com and www.lyme.com. All products are available directly from WiebeTech at www.wiebetech.com.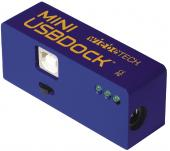 About WiebeTech
WiebeTech LLC was founded in July 2000 by James Wiebe and has focused on marketing high performance, highly portable storage solutions for consumer and government markets.
Note: mini SATADock and miniUSBDock are trademarks of WiebeTech LLC. Other marks are trademarks of their respective owners. All specifications and pricing are subject to change without notice.
###