NEWS RELEASE
For more information contact:
James Wiebe, President
WiebeTech LLC
8200 E. 34th Street North #1404
Wichita, KS 67226
jameswiebe@wiebetech.com
316 744 8722 (main) 316 744 1398 (fax)
1-866-744-8722 (toll free)
www.wiebetech.com



WiebeTech adds more drive capacity to New Dual Core Apple G5 with G5Jam Express™
Wichita, KS — January 10, 2006 —
WiebeTech has found a way to improve even the newly designed Dual Core Apple G5 and make it work harder for those who need the extra performance for video editing and graphics.
The new G5Jam Express™ adds two more drives inside the Dual Core G5, for a total of four internal drives and up to 2TB capacity. It fits in the space right in the front of the G5 and takes advantage of the excellent airflow inside the Dual Core G5. The G5Jam Express allows for plenty of cooling space for air circulation between the new drives, and heat also dissipates through the mounting plate.
The G5Jam continues the tradition of creating stunning mountable volume sizes and read/write speeds of over
220MB/s when software RAIDed.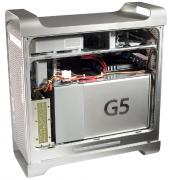 New G5Jam Express adds 2 SATA drives inside the new Dual Core G5 and gives up to 2TB capacity.
Installation is easy. The unit consists of a solid mounting base plate and bracket for drives, as well as special internal power and SATA cabling for routing to any SATA PCI-E host card (not included).
Features
Additional Storage Capacity: Supports any two additional SATA drives to allow up to 2 Terabytes of storage to be mounted inside the G5.
Supports OS X Soft RAID: Provides performance in excess of 200MB/sec. Drives may also be configured individually.
Supports HD Editing: Works with 1080i 10bit under Final Cut Pro in a variety of demanding edits. (May support 1080i across the entire disk map - performance does degrade as written cylinder count increases.)
This product ships mid-January and is priced at $69.95. Complete information can be viewed online. Order code: G5J-EXPRESS.
Dealers may purchase WiebeTech products www.drbott.com. End users may purchase from www.pcmall.com or www.macmall.com. End users may also order from www.pcconnection.com and CDW/Macwarehouse. All products are available directly from WiebeTech at www.wiebetech.com.
About WiebeTech
WiebeTech LLC was founded in July 2000 by James Wiebe and has focused on marketing high performance, highly portable storage solutions for consumer and government markets.
###