NEWS RELEASE
For more information contact:
James Wiebe, President
WiebeTech LLC
8200 E. 34th Street North #1404
Wichita, KS 67226
jameswiebe@wiebetech.com
316 744 8722 (main) 316 744 1398 (fax)
1-866-744-8722 (toll free)
www.wiebetech.com



WiebeTech expands TeraCard™ Series with PCI Express (PCIe) expansion cards; New bundles with G5Jam Express™ for Mac Dual Core G5
New bundles with G5Jam Express™ for Mac Dual Core G5
Wichita, KS — July 18, 2006 —
WiebeTech announces two more additions to its new TeraCard™ Series of host adapters that bring SATA connectivity to Macs or PCs with PCIe expansion slots.
The new TeraCard TCES0-2e has two external Serial ATA ports for use with any external SATA drive enclosure. TeraCard TCES0-2e allows hot-swapping of SATA devices on both Mac and PC. The TCES0-2e is priced at $99.95 and is in stock and available to order.
The new TeraCard TCES2-0 has two internal ports and is being sold individually or as a bundle with the G5Jam Express to add up to two extra internal drives to a Mac Dual Core G5.
"We're pleased to offer these new TeraCards as our own solution for SATA connectivity," said James Wiebe, president/CEO of WiebeTech. "These are wonderful for our popular SilverSATA lineup, and a perfect bundle with G5Jam Express. We now offer everything any Mac G5 owner needs to install additional drives into their computer."
The TCES2-0 is priced at $99.95. The bundle (part #G5JE-0-BND) starts at $159.95. Both products are in stock and available to order.
Features of the new cards include:
Operating Systems: Mac OS X, Windows XP


32 bit, 33/66MHz fully compliant PCI host interface


Supports SATA 2 (3.0 Gb/s), backwards compatible with SATA 1


LBA supports smaller drives as well as drives larger than 137GB


Supports two independent SATA channels


Supports: Legacy Command Queuing (LCQ), Native Command Queuing (NCQ),
Non-zero offsets (NCQ)


Out of order data delivery


FIS-based switching Port Multipliers


Dealers may purchase WiebeTech products from Synnex or Dr. Bott. End users may purchase from PCMall, MacMall or PC Connection. Government customers are encouraged to purchase from CDW-G, PCMallgov. All products are available directly from WiebeTech at wiebetech.com.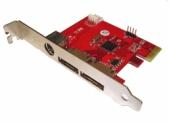 About WiebeTech
WiebeTech LLC was founded in July 2000 by James Wiebe and has focused on marketing high performance, highly portable storage solutions for consumer and government markets.
###