NEWS RELEASE
For more information contact:
James Wiebe, President
WiebeTech LLC
8200 E. 34th Street North #1404
Wichita, KS 67226
jameswiebe@wiebetech.com
316 744 8722 (main) 316 744 1398 (fax)
1-866-744-8722 (toll free)
www.wiebetech.com



WiebeTech adds 4-bay enclosure to SilverSATA™ all SATA Storage System product line
Wichita, KS — August 9, 2006 —
WiebeTech has added a 4-bay unit to its popular
SilverSATA™
product line. The SilverSATA IV holds four 3.5" SATA drives, with up to 750GB capacity for a total of 3TB (unformatted). Trays are removable and interchangeable with other SilverSATA models.
Each drive tray has a dedicated connection to an eSATA host controller for highest speed performance. If using a software RAID utility, the SilverSATA IV can be configured to achieve speeds of over 200MB/s! WiebeTech also sells eSATA host cards for computers that do not have eSATA ports.
The SilverSATA IV is a very affordable unit for users looking for a 4-tray JBOD (just a bunch of drives) or software RAID. The user configurable version of the SilverSATA IV retails at $449.95, and with four 750GB drives is $3109.95.
"The SilverSATA Series' streamlined design makes it the smallest multi-bay disk enclosure available," said James Wiebe, CEO/President of WiebeTech LLC. "We plan to continue to extend this product line, offering customers a variety of options for fast SATA speed."
The SilverSATA Series also includes a single-bay, 2-bay and 5-bay unit with single eSATA connections. Complete information on the entire SilverSATA Series lineup can be viewed by
clicking here.
Pricing and Availability
Description // Part # // Retail Price
User configurable 4-bay unit // SISIV-0 // $449.95
with 4 250GB drives // SISIV-1000 // $981.95
with 4 500GB drives // SISIV-2000 // $1793.95
with 4 750GB drives // SISIV-3000 // $3109.95
Extra trays with and without drives are also available.
All versions are in stock and ready to ship.
Dealers may purchase WiebeTech products from Synnex or Dr. Bott. End users may purchase from PCMall, MacMall or PC Connection. Government customers are encouraged to purchase from Lyme Computer, CDW-G or PCMallGov. All products are available directly from WiebeTech at wiebetech.com.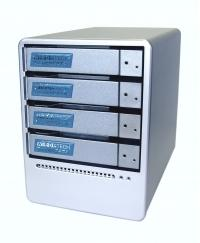 About WiebeTech
WiebeTech LLC was founded in July 2000 by James Wiebe and has focused on marketing high performance, highly portable storage solutions for consumer and government markets.
Note: SilverSATA is a trademark of WiebeTech LLC. Other marks are trademarks of their respective owners. All specifications and pricing are subject to change without notice.
###