NEWS RELEASE
For more information contact:
James Wiebe, President
WiebeTech LLC
8200 E. 34th Street North #1404
Wichita, KS 67226
jameswiebe@wiebetech.com
316 744 8722 (main) 316 744 1398 (fax)
1-866-744-8722 (toll free)
www.wiebetech.com



WiebeTech offers Portable 8-bay SCSI RAID for SATA drives with huge capacity
Wichita, KS — August 16, 2006 —
WiebeTech LLC has introduced the ProSATA™ SS8, a portable UltraSCSI RAID with huge capacity. Retail pricing begins at $2699.95 for the base unit without drives. The unit is now shipping.
The ProSATA SS8 has 8 drive trays filled with high performance SATA II drives and holds up to 6TB of data (unformatted). It features a built-in RAID controller that supports every kind of RAID and an UltraSCSI 320 interface which boasts sustained data transfer rates of more than 250MB/sec.
"The ProSATA SS8 is ideal for applications requiring mobile transport of up to 6TB of data," said James Wiebe, president/CEO of WiebeTech. "We expect most customers to run it as RAID 5, and as a result, it will deliver formatted volumes in the neighborhood of 5TB. This kind of portable capacity has previously not been available in the marketplace."
Featuring Intel based RAID management hardware and firmware, the user friendly web graphical user interface allows users to deploy and manage the disk array from virtually anywhere in the world with simple internet access. With the "Quick Install" wizard, the storage administrator can get the system up and running in minutes. Inexpensive Ultra SCSI host cards are available for laptops and PCs.
The ProSATA SS8 is ideal to transport huge amounts of data. It can be used as JBOD or RAID for email archives, data protection, disk to disk backup (D2D), digital video recording (DVR), digital surveillance (security), digital audio recording, desktop publishing, video editing (DV, SD, HD), SCSI SAN or virtual tape. It's also ideal for server applications such as Microsoft Exchange and SQL Servers.
Complete information and specifications on the ProSATA SS8 can be viewed by clicking here.
Pricing and Availability
Description // Part # // Retail Price
ProSATA SS8 0GB accepts 8 SATA drives to 750GB // SS8-0 // $2,699.95
ProSATA SS8 2000GB // SS8-2000 // $3,763.95
ProSATA SS8 4000GB // SS8-4000 // $5,387.95
ProSATA SS8 6000GB // SS8-6000 // $8,019.95
All versions are now shipping.
Dealers may purchase WiebeTech products from Synnex or Dr. Bott. End users may purchase from PCMall, MacMall or PC Connection. Government customers are encouraged to purchase from Lyme Computer, CDW-G or PCMallGov. All products are available directly from WiebeTech at wiebetech.com.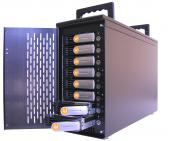 About WiebeTech
WiebeTech LLC was founded in July 2000 by James Wiebe and has focused on marketing high performance, highly portable storage solutions for consumer and government markets.
Note: ProSATA is a trademark of WiebeTech LLC. Other marks are trademarks of their respective owners. All specifications and pricing are subject to change without notice.
###