NEWS RELEASE
For more information contact:
James Wiebe, President
WiebeTech LLC
8200 E. 34th Street North #1404
Wichita, KS 67226
jameswiebe@wiebetech.com
316 744 8722 (main) 316 744 1398 (fax)
1-866-744-8722 (toll free)
www.wiebetech.com



WiebeTech Introduces New eSATA Express34 Host Card for Laptop Computers
Wichita, KS — October 16, 2006 —
WiebeTech has introduced a new TeraCard™ eSATA Express34 host card that allows users to add eSATA ports to the latest notebook computers with ExpressCard slots, such as MacBook Pro.
The card retails for $119.95 (Part # TC-E34-2S) and is shipping now.
"This addition to our TeraCard lineup of host cards allows users to take advantage of the high speed eSATA interface and fast SATA drives," said James Wiebe, president/CEO of WiebeTech LLC.
The card supports SATA 2 drives at a fast 3.0 Gbps, is fully backwards compatible with SATA 1, and includes drivers for Mac OS X and Windows 2K/XP/Server 2003.
Features include:
Two hot swappable eSATA ports at 3.0 Gbps
Supports 1-lane 2.5Gbps ExpressCard/34
Supports two independent Serial ATA channels
Supports FIS-based switching with Port Multipliers
Compliant with PCI Express Specification, revision 1.0a
Fully compliant with Serial ATA 1.0 specifications
Independent Link, Transport, and data FIFO
Independent command fetch, scatter/gather, and command execution
Supports Legacy Command Queuing (LCQ)
Supports Native Command Queuing (NCQ)
48-bit LBA supports all hard drive sizes (including large drives greater than 137GB)
31 Commands and Scatter/Gather Tables per Port
Two LEDs indicate HDD access
Includes drivers for Mac OS X, and Windows 2K/XP/Server 2000
Dealers may purchase WiebeTech products from Synnex or Dr. Bott. End users may purchase from PCMall, MacMall or PC Connection. Government customers are encouraged to purchase from Lyme Computer, CDW-G or PCMallGov. All products are available directly from WiebeTech at wiebetech.com.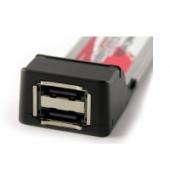 About WiebeTech
WiebeTech LLC was founded in July 2000 by James Wiebe and has focused on marketing high performance, highly portable storage solutions for consumer and government markets.
Note: TeraCard is a trademark of WiebeTech LLC. Other marks are trademarks of their respective owners. All specifications and pricing are subject to change without notice.
###