NEWS RELEASE
For more information contact:
James Wiebe, President
WiebeTech LLC
8200 E. 34th Street North #1404
Wichita, KS 67226
jameswiebe@wiebetech.com
316 744 8722 (main) 316 744 1398 (fax)
1-866-744-8722 (toll free)
www.wiebetech.com



WiebeTech Reduces Prices on Many DriveDocks, Introduces new Notebook DriveDock™ with FireWire 800
Wichita, KS — May 16, 2007 —
WiebeTech announces price reductions on many Fourth Generation DriveDocks™ including the
SATADock™
,
FireWire DriveDock™
and
FireWire 400 Notebook DriveDock™
. The SATADock is now reduced to $169.95, and the FireWire and Notebook DriveDock are only $99.95.
WiebeTech is also introducing a new
FireWire 800 Notebook DriveDock
(NBDD8v4) with FireWire 800 connectivity. Like our standard Notebook DriveDock v4, this new addition to the v4 Dock family allows quick access to any PATA/ATAPI 2.5" notebook drive. Multiple power options are available including Bus-Powered through FireWire 800, an optional +12V adapter or via a standard disk drive 4-pin molex power source. the Dock is priced at $169.95 retail and will ship early June.
"WiebeTech is excited to introduce yet another interface to our popular DriveDock series," said James Wiebe, President and CEO. "WiebeTech strives for quality, value and selection, and the new Notebook DriveDock meets all three standards."
Using the Notebook DriveDock is easy. Connect the drive to the Dock, plug in power and attach a FireWire or USB cable to a host computer. For more protection to the drive, a mounting plate is included on the dock to protect the drive's circuitry.
Features of the Notebook DriveDock 800
Dual daisy-chainable FireWire 800 ports: OXUF922
USB 2.0 Port: Allows attachment of USB hosts. Optional power adapter required.
Disk Drive Power In: Allows power using standard 4-pin molex connector found in most computers.
+12V Power Input LED: Identifies valid power input source on +12V input jack.
Disk Drive Power In LED: Identifies valid power input source on 4-pin drive power input socket.
+5V, +12V LEDs: Verifies that power output is operational. (+12V not necessary for Notebook DriveDock v4 when connected to a powered FireWire host.)
Bus-Powered Notebook DriveDock v4: Bus-powered through FireWire 800, needing no AC adapter to power the drive, allowing single cable operation.
On / Off Switch: Allows Power Up / Down.
FireWire Host Detection LED: Identifies valid FireWire host attachment.
USB Host Detection LED: Identifies USB attachment.
Aluminum case: Briefcase tough; excellent heat dissipation.
Small size: Fits in a pocket.
Data Speeds: FireWire 800: up to 800 Mbps; USB2 port: up to 480 Mbps.
Operating System: Windows XP, Macintosh OS X, Linux distributions that support FireWire.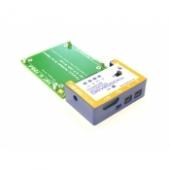 About WiebeTech
WiebeTech LLC was founded in July 2000 by James Wiebe and has focused on marketing high performance, highly portable storage solutions for consumer and government markets.
###