NEWS RELEASE
For more information contact:
James Wiebe, President
WiebeTech LLC
8200 E. 34th Street North #1404
Wichita, KS 67226
jameswiebe@wiebetech.com
316 744 8722 (main) 316 744 1398 (fax)
1-866-744-8722 (toll free)
www.wiebetech.com



WiebeTech Introduces Economical ToughTech™ FS Desktop Enclosure with FireWire 400/USB2.0/eSATA interface (Oxford 934)
Wichita, KS — October 1, 2007 —
WiebeTech has added another enclosure to its popular ToughTech desktop line. The new ToughTech™ FS uses the triple interface Oxford 934 chipset and is economically priced starting at $79.95. The product is in stock and ready to ship.
The ToughTech FS includes two FireWire 400 ports and single USB2.0 port and eSATA ports. It supports SATA 1 and SATA 2 hard drives.
All ToughTech models feature FlexMount™ anti-shock protection. FlexMount is a shock absorber that mounts between the drive and the enclosure and protects the data against bumps and vibrations.
ToughTech FS is a single drive storage solution for anyone who needs more space for backups, music, games, internet downloads, photography, audio/video editing or server storage.

New ToughTech FS
"This new ToughTech model completes our ToughTech line, with the ToughTech FS and ToughTech XE for SATA drives and ToughTech 400 for IDE drives," said James Wiebe, president and CEO of WiebeTech LLC.
The ToughTech XE features one USB port, two FireWire 800 (1394b) connectors and one eSATA port. The ToughTech 400 features one USB mini-B receptacle and two 6-pin FireWire 400 (1394a) connectors.
Various configurations of the ToughTech FS are available.
Configuration // Product Code // Retail Price
0GB (user configurable) // TTFS-0 // $79.95
250GB // TTFS-250 // $184.95
500GB // TTFS-500 // $317.95
750GB // TTFS-750 // $415.95
1TB // TTFS-1000 // $611.95
Dealers may purchase WiebeTech products from Synnex. End users may purchase from PCMall, MacMall or PC Connection. Government customers are encouraged to purchase from Lyme Computer, CDW-G or PCMallGov. All products are available directly from WiebeTech at wiebetech.com.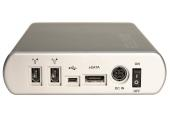 About WiebeTech
WiebeTech LLC was founded in July 2000 by James Wiebe and has focused on marketing high performance, highly portable storage solutions for consumer and government markets.
All specifications and pricing are subject to change without notice.
ToughTech is a trademark of WiebeTech LLC
###