NEWS RELEASE
For more information contact:
Jon Johnson
360/816-1740
jjohnson@cru-dataport.com





WiebeTech Answers Forensic Need with USB WriteBlocker at Techno Security
Vancouver, WA — June 1, 2009 —
WiebeTech™, a brand of
CRU-DataPort™
, is a Premier Sponsor of the 2009 Techno Security Conference, a global hub for IT Security professionals. Techno Security will be held in Myrtle Beach, SC May 31-June 3 on the cusp of President Obama declaring the appointment of a new cyber czar to develop a strategy to protect the nation's computer networks. WiebeTech is contributing to the solution with the announcement of new digital forensics, data security and data storage products, including hardware based encryption, a portable drive imager and a write-blocked forensic tool, the
USB WriteBlocker™
.
Heeding many requests from investigators for an easy to use, economical write-blocked device to support USB, WiebeTech created the new USB WriteBlocker. The USB WriteBlocker is the smallest forensic solution on the market to limit access on any USB Mass Storage device to read-only. It operates via USB bus power, supports VID/PID discovery and provides data transfer rates 20-30% faster than competing products. The USB WriteBlocker protects drive content by preventing disk writes using WiebeTech inline write-block technology. It is simple to use and attaches to the computer without configuration or external power. USB WriteBlocker works with devices that register as "USB Mass Storage" devices, very common for thumb drives and storage enclosures. USB WriteBlocker is also compatible with other devices that register in the same way, such as some Cellular Phones and Digital Cameras.
Additional new products include the
Forensic RTX™
, a portable storage enclosure with a quad interface that allows investigators to examine 3.5" IDE/PATA or SATA drives in easy-to-use write-blocked bays and copy data onto SATA drives, both in the lab or out in the field. Downloading data and image content of a suspect's drive without risk of data being written to the drive is easy with the
Forensic UltraDock™
. WiebeTech's premium dock has five ports on the host side, native PATA and SATA drive connections, two power options, a recessed on/off switch guard and 8 status LEDs in a rugged aluminum enclosure. The new
RedPort SAS™
PCIe card adds write-blocked ports to a Windows or Linux computer while forensically protecting the contents of an attached SAS/SATA external enclosure.
Hardware-based encryption makes the new
CRU DataPort™ 10
Secure an ideal solution for protecting sensitive data on a HDD. This rugged enclosure enables the drive to be removed, or "Hot-Swapped", for data backup, transporting and archiving; while a government approved AES 128 high-speed encryption processor secures the contents of the entire drive without affecting computer performance.
If you have not had the privilege to hear digital forensic expert James Wiebe, do not miss his lecture "Encryption Update for the Forensic Investigator or How the Bad Guy Encrypts Data", Tuesday June 2nd from 11:00-12:00 in Oleander A. For complete conference details, please visit
Techno Security.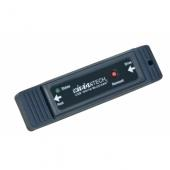 USB WriteBlocker
About CRU-DataPort
Founded in 1986, CRU-DataPort is a pioneer in data security and data mobility devices. The company's flagship DataPort®, along with Data Express® and RhinoJR® (formerly StorCase), and WiebeTech product brands of removable and external hard drive enclosures are the de facto standard for physical data security and safe data transporting in government, education and business markets. CRU-DataPort products are widely used in media rich data environments including audio/video production, digital cinema, video security capture, and disk-2-disk backup and archiving applications. Backed by the industry's leading warranties and connector ratings, CRU-DataPort products are available through major distributors, PC manufacturers, specialty system builders and resellers throughout the world.
###