NEWS RELEASE
For more information contact:
Contact: Sally Vesley: (360) 816-1751
svesley@cru-dataport.com




CRU-DataPort Announces the DataPort 22 - The First Removable Drive
For Dell Optiplex Small Form Factor Computers
Vancouver, WA — May 12, 2010 —
The DataPort® 22 is the first removable drive designed for DellTM Optiplex™ Small Form Factor computers. The DP22 mounts in the 3.5 inch "flex- bay" or "slim-line bay" available on the Optiplex SFF chassis. The DP22 can also be mounted into most standard 3.5" floppy bays. Made of durable metal, the DP22 is designed for demanding desk-top computing applications. The drive carrier accommodates any capacity 2.5" SATA hard drive or solid state drive with a height of 9.5mm and supports 3 Gb/s drive operation.
The DP22 allows easy removal and secured storage of classified or sensitive data for applications ranging from intelligence and military data to patient and client information. The DP22 is the ideal addition to CRU-DataPort's removable storage product line for applications where smaller form factor computers are preferred.
Other features of the DP22 include a powered key-lock to prevent theft or accidental removal of the drive carrier during operation. Two LEDs are provided to indicate system power and drive activity. The DP22 interconnect is rated at 25,000+ insertions and the unit comes with an industry leading 5-year warranty.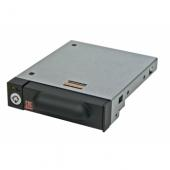 About CRU-DataPort
Founded in 1986, CRU-DataPort is a pioneer in data security and data mobility devices. The company's flagship DataPort®, along with Data Express® and RhinoJR® (formerly manufactured by StorCase), and WiebeTech product brands of removable and external hard drive enclosures are the de facto standard for physical data security and safe data transporting in government, education and business markets. CRU-DataPort products are also widely used in media rich data environments including audio/video production, digital cinema, video security capture, and disk-2-disk backup and archiving applications. Backed by the industry's leading warranties and connector ratings, CRU-DataPort products are available through major distributors, PC manufacturers, specialty system builders and resellers throughout the world.
###