NEWS RELEASE
For more information contact:
Contact: Sally Vesley: (360) 816-1751
svesley@cru-dataport.com



RTX™220-QR Enclosure with RAID Offers Huge Storage in Small Footprint
Vancouver, WA — August 9, 2010 —
Portable storage with RAID has never been more affordable and easier to use with the newly reengineered RTX220-QR HDD enclosure from WiebeTech, a brand of
CRU-DataPort
. As a direct replacement for the RTX200H-QR, the
RTX220-QR
provides a fast way to mirror (RAID 1), stripe (RAID 0) or create a quick backup disk. Additional features of the dual TrayFree™ bay enclosure include: an updated RAID controller with a new menu system, a durable handle for portability, quad interfaces (FireWire 400/800, USB 2.0 and eSATA) and a unique companion utility to customize fan and alarm behavior. The user-configurable audible and visual warnings are context-specific with alerts for both system and RAID status. System LEDs indicate power, hardware and RAID status. The RTX220-QR portable storage enclosure is available with base units starting at $499.00 MSRP.
RTX220-QR TrayFree™ technology simplifies hard drive installation by merely inserting the drive into the sled and shutting the door. Drive bays feature all-metal construction, shock-mount protection, and interface connectors rated for 20,000+ drive insertions. Each bay locks for added security and supports hot- swapping to replace failed drives without shutting down the system. The sturdy metal case provides excellent heat dissipation and rugged durability while the 60mm magnetic-levitation chassis fan offers superior yet quiet cooling. This unit operates in single disk mode as well to offer flexibility and scalability.
"RTX220-QR is a brilliant choice for photography and video storage, small businesses server storage as well as federal and forensic professionals," asserts Dan Bovee, Vice President of Sales and Marketing for CRU-DataPort. RTX220-QR may be seen in conjunction with other storage, encryption and digital forensics solutions at
HTCIA
September 20-22, 2010 in Atlanta, GA,
SMB Nation
October 22-24, 2010 in Las Vegas, NV,
Techno Forensics
October 25-26, 2010 in Gaithersburg, MD and
PhotoPlus
October 28- 30, 2010 in New York, NY. For additional information, please contact
Jon
at
FotoCare
or
WiebeTech Sales
.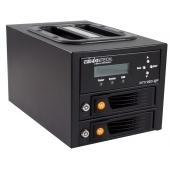 About CRU-DataPort
Founded in 1986, CRU-DataPort is a pioneer in data security and data mobility devices. The company's flagship DataPort®, along with Data Express® and RhinoJR® (formerly manufactured by StorCase), and WiebeTech™ product brands of removable and external hard drive enclosures are the de facto standard for physical data security and safe data transporting in government, education and business markets. CRU-DataPort products are also widely used in media rich data environments including audio/video production, digital cinema, video security capture, and disk-2-disk backup and archiving applications. CRU-DataPort products are available through major distributors, PC manufacturers, specialty system builders and resellers globally.
###